Home Whitening
Home Whitening
Please read and be aware of the following information before starting your home whitening. 
1.  Teeth are naturally darker along the gumline.  These areas may require more time to lighten than the rest of the tooth surface and usually remain slightly darker.
2.  A small percentage of patients experience sensitivity with a whitening treatment.  Should this occur, contact us.  It may be recommended that you use a whitening treatment every second or third night.  You can also use home whitening during the day for 1-3 hours.
3.  Foods and juices high in citrus acid can cause sensitivity to teeth.
4.  Some patients have noticed temporary discomfort of the gums, lips, throat, or tongue.  Should any of these symptoms progressively worsen, call your dentist.  These side effects will usually subside within 1-3 days after treatment is discontinued.
5.  Coffee, tobacco and other products can restain your teeth over time.  Should this occur, the teeth can be re-whitened within a few nights with a home whitening.
6.  Regular dental checkups and cleanings are important before and after whitening treatment to maintain a healthy smile.
7.  If you have any questions pertaining to this treatment, please ask your dentist.
8.  Some old amalgam or fillings may leave a dark purple color in your bleaching tray; this is normal.
9.  Discard any unused whitening gel after treatment is completed.
Please Do Not:
1.  Do not use any whitening product while pregnant or lactating.
2.  Do not eat while wearing your custom trays.
3.  Do not use tobacco products while wearing your custom trays.
4.  Do not expose the whitening products to heat and/or sunlight.
5.  Do not freeze the whitening products.
Related Teeth Whitening Articles
Teeth Whitening – Brighter, lighter, whiter...
The subconscious impact of a white smile is radiant health, happiness, warmth and invitation. This phenomenon has been reinforced with the spread of American culture worldwide, where an especially white smile has even been coined a "Hollywood smile." Today brighter, lighter, whiter teeth have become a norm. Tooth whitening by bleaching is a successful, conservative, relatively inexpensive and safe alternative... Read Article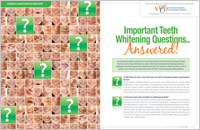 Important Teeth Whitening Questions Answered!
In Dear Doctor's interview with nationally noted teeth-whitening expert Dr. Van B. Haywood, he answers questions about bleaching techniques and safety in achieving the best possible results. If you are thinking about getting your teeth whitened at your dentist's office or doing it yourself at home, this is a must-read... Read Article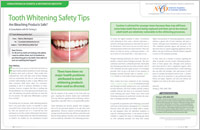 Tooth Whitening Safety Tips
There have been no major health problems attributed to tooth whitening products when used as directed. Many studies have confirmed this, and we will share some of these findings with you... Read Article